Rock Climbing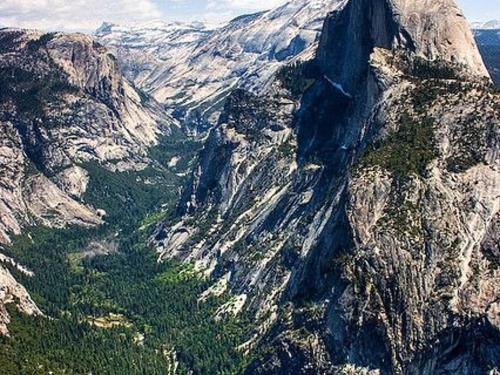 Have you done all the walkabouts that you can handle at this point? Are you looking to the sky thinking how do I get up to you?? If you could pick any animal to be, does a lizard sound amazing? Then perhaps you should try rock climbing! Even if you don't want to be a lizard, rock climbing is still seriously awesome. With so many mountains around June Lake and into Mammoth, there are a plethora of options for beginners and advanced climbers. Now beginners, yes those who wish to start zenning up on a sheer cliff, this part is for you; don't be scared you can totally get started. You just have to get some basics.
Shoes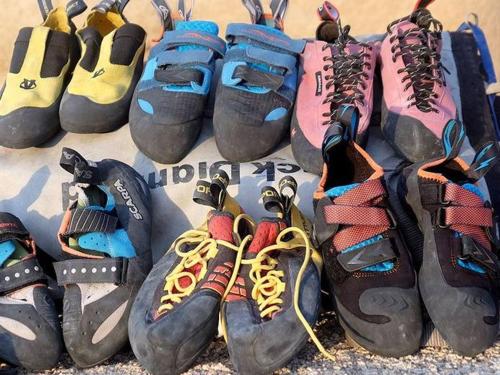 #1 Shoes. As with any sport, you need to have the right gear and for rock climbing its shoes. Tennis shoes are not rock climbing shoes, nor are basketball or running shoes. You must wear those very tight, specific only for scaling a wall type of shoes. Make sure that the person helping you pick out said shoes have actually been rock climbing. You want a salesman who knows how mountain climbing shoes are supposed to fit. If you are renting shoes, wear super thin socks. If you own shoes, don't wear socks, period.
Chalk Bag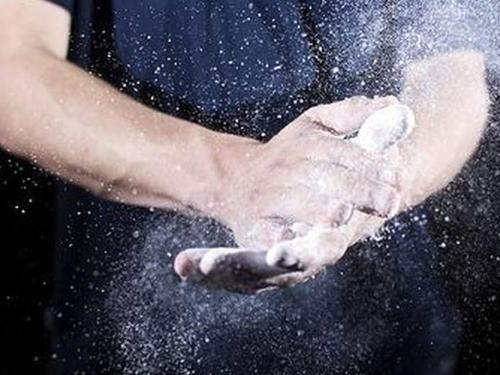 #2 Chalk bag. You will sweat. Your hands will feel like they couldn't possibly find any kind of hold. This is where chalk comes into the picture. Have you ever watched the Olympics? Well, the gymnastics folks use chalk because it helps them keep their grip and not slip around. Be an Olympian, use chalk.
Mammoth Climbing Guides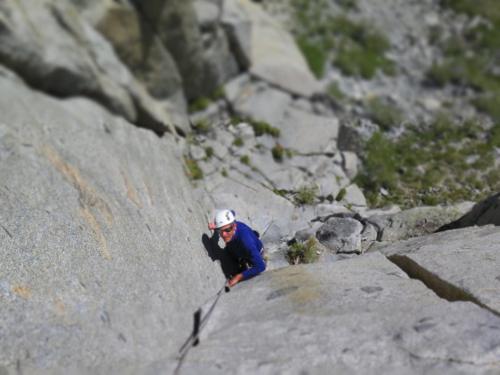 #3
Guides.
Generally, I suggest for beginners, never ever ever ever go alone. Also, start with bouldering. Bouldering is essentially pretending that you are Spiderman and climbing without ropes or harnesses. The climbs are shorter and not as tall. If you want to start doing top-rope (climbing with ropes and harnesses) get an instructor or someone who knows what they are doing. There is a great company up in Mammoth that will go out on the mountain tops with you:
Mammoth Climbing Guides.
Check out their website- it's worth the money to be safe and have someone literally showing you the ropes.
http://mammothclimbingguides.com/
Mountain Project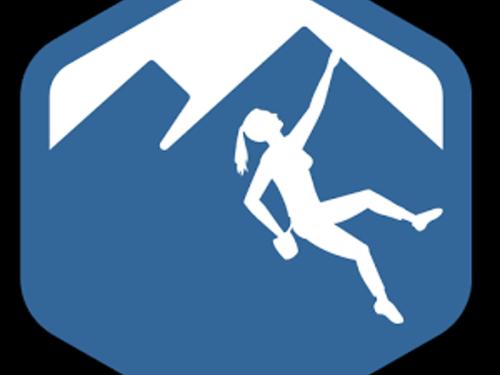 #4
Find all the routes.
Now to those climbers who are advanced or just telling people they are. Just take a hike into the woods and you will find a lot of areas for a decent trad climb to go along with all the routes with anchors that are new to very old.
Mountain Project
has a great list of climbs around June Lake and Mammoth that is sure to satisfy every level. You will be able to find the best routes, where to start and rankings on that website.
https://www.mountainproject.com/
The Number One Tip From a Pro: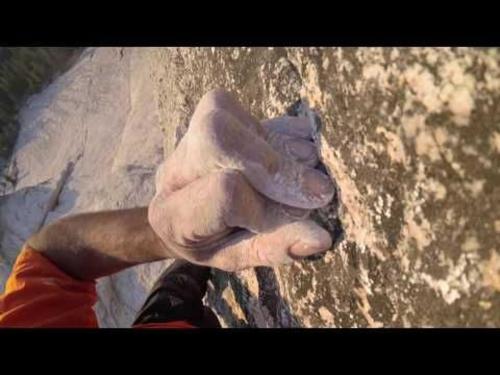 I asked Jason Davis, a professional rock climber, for his #1 tip. He said, don't shy away from the fear, embrace those moments when you lay it all on the line because it's in those precious rare moments when all you can hear is your breathing and your vision sharpens, that's when you truly connect with the rock. There are a million different websites and blogs dedicated just to rock climbing. You could look at pictures, read books or watch youtube until your eyes fall out but, rock climbing isn't about watching other people. Rock climbing is about you finding union with the world around you. It is about letting go of all the stress that fills up your life and focusing on what is right underneath your fingers and toes. Remember what Jason says: it's about getting your vision to sharpen so that you can truly find that deep connection.